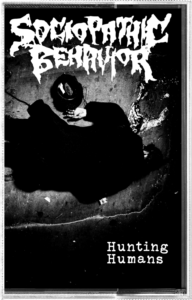 ARx-85: SOCIOPATHIC BEHAVIOR
"Hunting Humans" MC
Debut slaying of brutal mincing grindcore in collaboration between Brazilian and Italian criminals! Featuring members of MDK, Surgical Suppression, Yakisoba, Carbonized Innocents, and more. FFO Rot, Mesrine, etc. Professionally manufactured imprinted cassette tapes with three panel insert. Vinyl sticker included with each copy. First press available in two versions: white shroud shells with black imprint, or deluxe blood red shells with white imprint and a bonus patch limited to 100 total copies.

Individual patches available here!
---
ARx-83: OOZING / PHARMACIST
"Forbidden Exhumation / Thanatological Reflections On Necroticism" MC
Cavernous gore splatter from the United States and forensic grinding death from Japan. Five tracks per side clocking over fifteen minutes of material from each band! Professionally manufactured labeled cassette tapes with full color layout and four panel insert. Second press available now on orange carotenosis colored shells limited to 100 total copies.